Introduction
Socket weld forged steel Y type strainer is an essential device installed in medium transmission pipeline system. This socket weld Y type strainer is used to remove bigger solid particles in fluid (such as iron rust and sand grain in the sewage), which helps protect accessories on pipeline system from wear and blocking in order to keep the medium transmission pipeline system work smoothly.
Application of Y Strainer
Socket weld Y type pipeline strainer is widely applied in tap water, sewage, construction, petroleum, chemical, food, medicine, textile, electric power, shipbuilding, metallurgy, and energy pipeline systems.
Features
1. Socket weld Y type strainer features high filtration precision and dirt carrying ability.
2. Cleaning and mounting of this type of pipeline strainer are very easy and convenient. When cleaning the strainer, you only need to take out and clean the dismountable strainer cartridge. All our products have passed API6D and CE certification.
3. Filter mesh is made of thickened stainless steel plate, which ensures its long serve life.
4. Valve body adopts precision casting technique.
5. Two times shot blasting processing assures exquisite appearance of forged steel Y strainer.
6. We can customize pipeline strainer according to your requirement.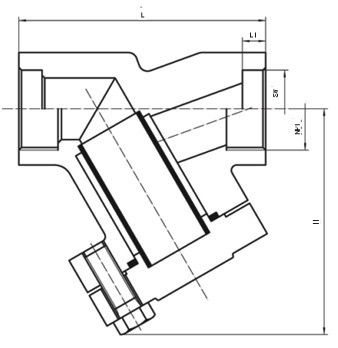 Main Parts and Materials of Forged Steel Socket Weld Y Type Strainer
No.
Part Name
Carbon Steel
Stainless Steel
1
Body
A105
F304
F316
F316L
2
Cover
A105
F304
F316
F316L
3
Net
SS304
SS304
SS316L
SS316L
4
Filler
A105
SS304
SS316L
SS316L
5
Gasket
PTFE,GRAPHITE
6
Stud Bolt
A193-B7
A193-B8
Working Principle of Y Strainer
Socket weld forged steel Y strainer is a small device which is applied to remove the small amount of solid particles in fluid and keep the equipment running smoothly. When the fluid flows into filter cartridge, the impurities are blocked by the filter mesh in the cartridge and cleaned fluid flows out of strainer.
Classification of Y Type Pipeline Strainer
1. SY Water Strainer
2. QG Steam Strainer
3. YQ Filter
How to Purchase Socket Weld Y Type Strainer
1. If you have any special request when purchasing our products, please indicate.
2. If you have already selected the proper model, you can place order directly.
3. If you are not sure about which model is suitable, please offer the following information including product material, nominal pressure, applicable medium, operating temperature and connection type, and we will give you the best suggestion.
4. If the working place is very important or working environment is complicated, it would be better to offer construction design drawing and our experts will design the most proper socket weld forged steel pipeline strainer for you.
Connection Types of Y Strainers
1. Flange Connection (GL41H/SLVY Hand Brush Type/YSTFH Rod Telescopic Flange Connection)
2. Screwed Connection (GL11 Threaded Connection)
3. Butt Welding Connection
Installation
1. Socket weld Y type strainer can be installed horizontally or downward vertically. The arrow direction on the valve body should agree with water flow direction.
2. For the convenience of maintaining, this pipeline strainer should be mounted together with globe valve. Globe valve should be installed in upstream and downstream. Once Y filter needs maintenance, you can close the globe valves in upstream and downstream, and cut down its connection with pipeline system.
3. To keep the normal use of pipeline system during maintenance of socket weld Y type strainer, it is better to install a bypass pipeline. In normal times, keep the globe valve on bypass pipeline closed. When Y strainer needs maintenance, open the globe valve on bypass pipeline in order not to delay normal operation of the pipeline system.
4. When mounting pipeline strainer, please reserve some space for the convenience of daily maintenance.
5. It would be better to install pressure gage in upstream and downstream of this type of strainer. Large pressure difference between upstream and downstream means that there are already lots of impurities on filter mesh and the mesh should be cleaned.