Introduction
API flange stainless steel bellow sealed globe valve (stop valve) is named after its shape. It is mainly composed of valve body, disc, stem, bellows and shaft pin, of which the body has a partition inside. And the valve inlet and outlet centers are inline. Such configuration can change the direction of flow. Presently, bellow sealed stop valves are usually applied in mining, chemical processing, food processing, waste water, fertilizer processing, etc.
Advantages
1. The sealing performance of API flange stainless steel bellow sealed globe valve is excellent.
2. Such valve can be used for a long time.
3. The surface is gloss and smooth after being polished twice.
4. It employs precision casting body and CNC processed disc.
Features
(1) API flange stainless steel bellow sealed globe valve features simpler structure and easier maintenance when compared with gate valve.
(2) There is not much abrasion or scratch because the disc and valve sealing face don't make relative sliding.
(3) Medium passway is not smooth, which makes hydraulic resistance large resulting in large power consumption.
(4) The disc stroke is short when bellow sealed stop valves start or stop. Thereby, its height is a bit lower than that of gate valve, while the structure length is longer.
(5) The valve stem axis of API flange stainless steel bellow sealed globe valve is vertical to valve seat sealing face.
(6) When the nominal pressure of medium flow direction is less than 16MPa, medium flows up from lower disc. When the pressure is more than 20MPa, medium flows down from upper disc, strengthening sealing performance. When in operation, medium flow direction is one way and can not be changed.
Parameters
Main Parts of API Flange Stainless Steel Bellow Sealed Globe Valve
Body Cover Disc
Stem
Sealing Face
Sealing Shim
Packing
Working Temperature
Suitable Medium
WCB
2Cr13
13Cr
STL
With Body
Material
PTFE
Nylon
Enhanced
Flexible
1Cr13/Flexible
Graphite
SFB-2
08Soft Steel
F304
F316
F304L
F316L
Flexible Graphite
Enhanced
Flexible
Graphite
SFB/260
SFP/260
PTFE
≤ 425
Water
Steam
Petroleum
Products
WC1
38Cr Moal
25Cr 2Mov
≤ 450
WC6
≤ 540
WC9
≤ 570
C5 C12
≤ 540
CF8
F304
≤ 600
Nitric Acid
Acetic Acid
CF3
F316
CF8M
F304L
CF3M
F316L
Structure Diagram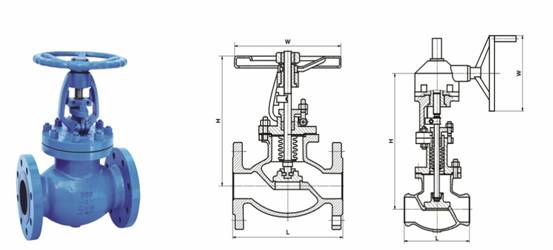 Established in March 25, 2010, Wenzhou Kerui Valve Industry Co., LTD is a professional manufacturer and supplier of various valves in China. Our main products cover ball valves, gate valves, globe valves, check valves, forged steel valves and strainers. Possessing a sane quality guarantee system and excellent after-sale service system, our bellow sealed globe valves (bellow sealed stop valves) win widespread recognition and praise. KERUI products have reached the standard of US API, Germany DIN, Russia GOST, Japan JIS and China National Standard.