Description
API 3 way flanged floating ball valve has distinct features like small volume, reliable sealing performance, simple structure, convenient maintenance and high corrosion resistance. This three-way ball valve is used for cutting off, distributing and changing the flowing direction of medium, widely applied in water, oil, natural gas, weak corrosive liquid, etc.
Advantages
1. KERUI valves are ISO9001 / CE / API 6D certified.
2. Our company pays much attention to technology renovation, process improvement, structure optimization and quality improvement. Moreover, KERUI products like three-way ball valve are strictly inspected before into storage, thus ensuring products' quality.
3. KERUI has excellent after-sale service system, providing optimal and timely service.
4. Our ball valves are guaranteed within the first 18 months.
Performance
1. The sealing materials all adopt standard PTFE and PPL, carbon fiber, etc. They are formed and cooled under high-temperature pressing, then processed by digital controlled lathe. In thus way, the sealing performance and wear resistance is guaranteed, leading a longer service life.
2. The ball of this three-way ball valve is of floating type, therefore, under the function of pressure, it can generate a certain amount of displacement and press tightly on the sealing surface of exit end, guaranteeing excellent sealing performance of exit end.
Parameters of API 3 Way Flanged Floating Ball Valve
Model
Q45F-16C
Q45F-25C
Q45F-40C
Q45F-16P
Q45F-25P
Q45F-40P
Working Pressure (℃)
1.6
2.5
4.0
1.6
2.5
4.0
Applicable Temperature (℃)
≤150
Medium of Ball Valve
Water, Oil, Steam
Weak Corrosive Medium
Materials
Valve Body
Carbon Steel Casting
CrNiTi Stainless Steel
Ball/Stem
2Cr13
CrNiTi Stainless Steel
Seal Ring
Reinforced PTFE
Packing
PTFE
Structure of Three-Way Ball Valve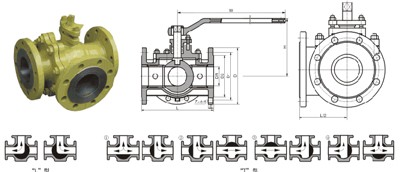 Parameters
Nominal Diameter
Main Shape Sizes and Connection Sizes
L
D
D1
D2
b
Z-d
H
W
Q44F-16C Q44f-16P Q644F-16C Q644F-16P Q944F-16P Q45F-16C Q45F-16P Q645F-16C Q645F-16P Q945F-16C Q945f-16P
15
108
95
65
45
14
414
95
140
20
117
105
75
55
14
414
105
164
25
127
115
85
65
14
414
113
180
32
140
135
100
78
16
418
135
250
40
165
145
110
85
16
418
142
300
50
178
160
125
100
16
418
154
350
65
191
180
145
120
18
818
175
350
80
203
195
160
135
20
818
190
400
100
229
215
180
155
20
818
225
500
125
356
245
210
185
22
818
245
600
150
394
280
240
210
24
823
265
800
200
457
335
295
265
26
1223
305
800
250
533
405
355
320
30
1225
370
1300