Description
DIN cast steel flanged Y strainer is an important device for medium transmission pipeline system. It is installed on pipeline and helps to remove big solid particles in fluid, such as iron rust and sand grain in the sewage. This DIN pipeline strainer can protect pipeline accessories (compressor, pump, display instrument, and other devices) from wearing and blocking, and keep the medium transmission pipeline system work smoothly. All our flanged Y strainers have passed API6D and CE certification.
DIN cast steel Y strainer is widely applied in pipeline systems, such as tap water, sewage, construction, petroleum, chemical, food, medicine, textile, electric power, shipbuilding, metallurgy, and energy systems.
Features of DIN Pipeline Strainer
1. Y type pipeline strainer features high filtration precision and strong fouling resistance.
2. Filter mesh is made of thickened stainless steel plate, which ensures its long serve life.
3. Valve body adopts precision casting technique.
4. Cleaning, deslagging and mounting of flanged Y strainer are very easy and convenient.
5. Fast through-flow speed guarantees little pressure loss.
Classification According to Sealing Surface of Cast Steel Y Strainer
Sealing surface is the most important working face of DIN pipeline strainer. According to ingredients, they are classified into two types:
1. Soft Sealing Material
(1)Rubber (like Nitrile rubber, fluoro rubber, etc.)
(2)Plastic (Teflon, nylon, etc.)
2. Hard Sealing Material
(1)Copper Alloy (for low pressure resistant strainer)
(2)Chromium Cast Steel (for common middle or high pressure resistant strainer)
(3)Stellite Alloy (for high temperature and pressure resistant and highly anti-corrosive strainer)
(4)Nickel Based Alloy (for anti-corrosive strainer)
Main Components of DIN Pipeline Strainer
| | |
| --- | --- |
| Name of Parts | Material |
| Valve Body | Cast Steel |
| Strainer Cover | Cast Steel |
| Strainer Mesh | Cast Steel |
| Sealing Element | Flexible Graphite and Telfon |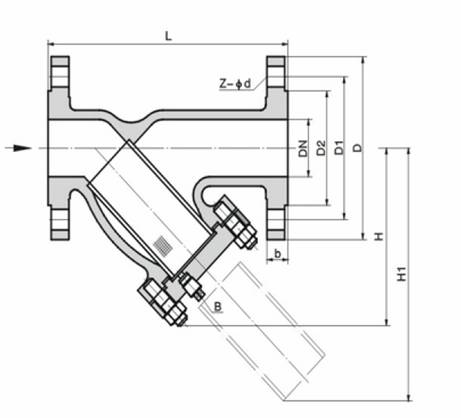 Wenzhou Kerui Valve Industry Co., Ltd. is a professional manufacturer of cast steel Y strainers and valves, such as ball valves, gate valves, globe valves, check valves, forged steel valves and Y strainers. With high technology, great production capacity and strong innovation ability, we are able to provide high quality products. Our DIN pipeline strainers occupy a large market at home and abroad. For more information, please enter our website or contact us directly.