ntroduction
DIN welded swing check valve, also known as DIN welded swing non return valve, is installed on one-way flow pipelines. It is mainly made up of valve body, disc and spring. DIN swing check valve features rational structure, reliable sealing and beautiful shape. This type of DIN swing non return valve is used to prevent reverse flow and leakage of medium, such as fluid, gas, etc. It is also applied to stop reversal of pump and driving motor. They are widely applied in tap water, sewage, construction, petroleum, chemical, food, medicine, textile, electric power, shipbuilding, metallurgy, and other pipeline systems.
It opens and closes automatically depending on force from media flowing. DIN swing check valve allows medium to flow through it in only one direction, and prevents reverse direction flow. Disc will open under the pressure of forward flow fluid. When fluid flows in reverse direction, the disc will be closed by fluid pressure and dead weight so as to cut off the flow.
Advantages
1. Disc of this DIN swing non return valve is with high strength and stiffness.
2. CNC processing technology is adopted to produce disc.
3. Small friction between sealing surfaces ensures low wear rate of DIN swing check valve.
4. Disc restrainer is designed to prevent that the open position of disc is too high to be shut down.
5. High intensity and flexibility of rocker are beneficial to close disc.
6. The disc sealing surface can be customized. Customer can choose sealing material according to media in order to increase sealing property and wear resistance according to requirement.
7. Our DIN swing check valves have passed DIN and CE certifications.
Malfunction, Reason and Solution
| | | |
| --- | --- | --- |
| Malfunction | Disc Breakage | Medium Backflow |
| Reason | The disc beat the valve seat frequently. Some disc valves that are made of brittle materials (such as cast iron, brass, etc.) will be easily broken. | 1. Sealing surface is damaged. 2. Impurities are sandwiched between sealing surfaces. |
| Solution | Applying ductile materials to manufacturer valve disc | Repairing the sealing surface or cleaning impurities |
Structure Map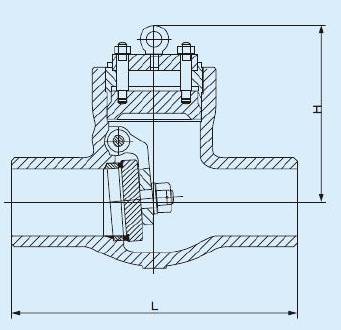 Wenzhou Kerui Valve Industry Co., LTD specializes in researching, designing, manufacturing and selling valves. Our main products include ball valves, gate valves, globe valves, DIN swing check valves (non return valves), strainers and forged steel valves. Our DIN swing non return valves are exported to Brazil, Argentina, Mexico, Canada, Russia, Kazakhstan, Indonesia, South Korea, Japan, Australia, Bulgaria, Spain, France, England, Sweden, Dubai, Arab, Pakistan, South Africa, etc.