Description
DIN (Deutsch Industrial Norman) flanged cast steel globe valve manufactured by us is broadly installed on such pipelines as tag water, sewage, petroleum, chemical, construction, medicine, foodstuff, electricity, ship, textile, metallurgy and energy system. This flanged globe valve works to regulate medium flow. The valve disc moves along seat central line, which makes valve seat changes is in direct proportion to disc stroke.
Advantages
1. DIN flanged cast steel globe valve enjoys good sealing performance and long service life.
2. The surface is polished twice, gloss and smooth.
3. The friction between sealing faces is small.
4. The globe valve utilizes precision casting body and CNC processed valve disc.
Features
(1) Compared with gate valve, DIN flanged cast steel globe valve features simpler structure and easier maintenance.
(2) As there is no relative sliding between disc and valve sealing face, abrasion and scratch are not serious.
(3) The disc stroke is short when flanged globe valve starts or stops. Thus, valve height is lower than that of gate valve, yet the structure length is much longer.
(4) Medium passway is not smooth inside valve body. As a result, the hydraulic resistance is large, causing large power consumption of DIN flanged cast steel globe valve.
(5) When the nominal pressure of medium flow direction is less than 16MPa, medium flows up from lower disc. When the pressure is more than 20MPa, medium flows down from upper disc, strengthening sealing performance. When in operation, the medium flow direction is one way, which can not be changed, either.
(6) The valve stem axis of DIN flanged cast steel globe valve is vertical to valve seat sealing face.
Parameters
Main Parts and Materials
Body
GS-C25
1.4308
Disc
GS-C25
1.4308
1.4408
Monel
Stem
13Cr
1.4308
1.4408
Monel
Wedge Disc Sealing Face
13Cr
13Cr
STL
1.4308
STL
1.441
STL
Monel
1.4308
1.4308
STL
Seating Sealing Face
13Cr
STL
STL
1.4308
STL
1.441
STL
Monel
1.4308
STL
STL
Body
1.4408
1.4306
1.4301
Disc
Stem
1.4408
1.4306
1.4301
Wedge Disc Sealing Face
1.4408
1.4408
1.4408
STL
STL
STL
1.4306
1.4306
1.4306
STL
STL
STL
1.4301
1.4301
1.4301
STL
STL
STL
Seating Sealing Face
Structure Diagram of Flanged Globe Valve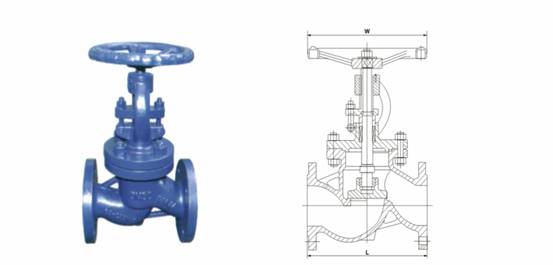 We are specialized in scientific research, design, manufacturing, sales and service of DIN flanged cast steel globe valves. Our products have reached the standard of US API, Germany DIN, Russia GOST, Japan JIS and China National Standard. Besides, KERUI products have received ISO9001 quality system certification, CE certification and API 6D standard. If our valves have quality problems in the first month, we promise to change a new one. Within 18 months, we provide maintenance. For more information, please do not hesitate to contact us.