Description
3-way pneumatic actuated ball valve is of threaded end. This 3-way ball valve has distinct features like small volume, reliable sealing performance, simple structure, convenient maintenance and high corrosion resistance. It is used for cutting off, distributing and changing the flowing direction of medium, widely applied in water, oil, natural gas, weak corrosive liquid, etc.
Features
1. The sealing materials of this pneumatic actuated ball valve all adopt standard PTFE and PPL, carbon fiber, etc. They are formed and cooled under high-temperature pressing, then processed by digital controlled lathe. In thus way, the sealing performance and wear resistance is guaranteed, leading a longer service life of ball valve.
2. Our company pays much attention to technology renovation, process improvement, structure optimization and quality improvement.
3. 3-way ball valves are strictly inspected before into storage, thus ensuring quality. They are ISO9001 / CE / API 6D certified.
4. We have excellent after-sale service system, providing optimal and timely service. Our pneumatic actuated ball valves are guaranteed within the first 18 months.
Main Components of Pneumatic Actuator
| | |
| --- | --- |
| Name | Pneumatic Actuator |
| Cylinder | Aluminum Profiles (Hard Anodizing) |
| End Cap | Casting Aluminum (Epoxy Resin Spraying) |
| Piston | Casting Aluminum |
| Axle | Plating Nickel Phosphorus Alloy Steel |
| O-ring | NBR |
| Bolt | 304 Stainless Steel |
Technical Parameters of Pneumatic Actuated Ball Valve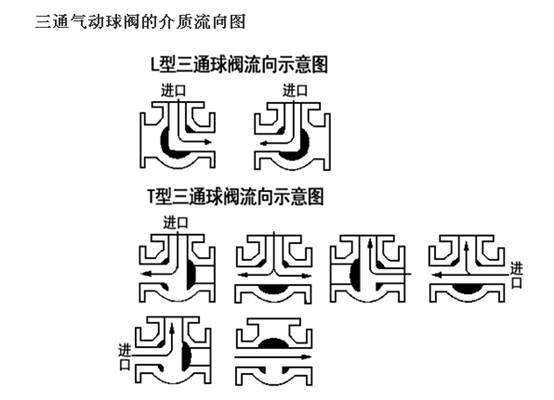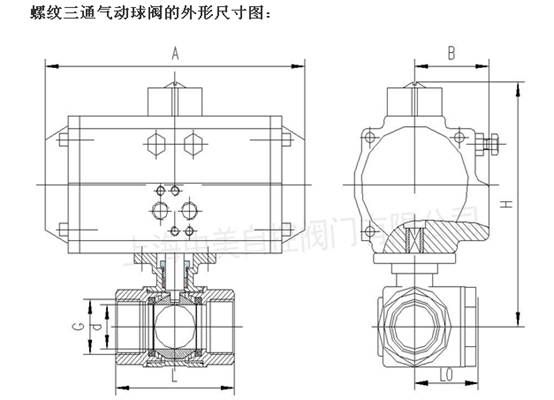 Diameter
External Connection Dimension
DN
in
d
G
L
LO
A
B
H
15
1/2"
10
1/2"
68
34
110
23
130/136
20
3/4"
15
3/4"
78
39
160
42
135/141
25
1"
20
1"
86
43
190
47
139/173
32
11/4"
25
11/4"
111
55.5
190
47
158/186
40
11/2"
32
11/2"
126
63
206
53
165/203
50
2"
38
2"
143
71.5
216
57
202/228