Description
1PC round type threaded ball valve in KERUI is mainly made up of stainless steel. This round type ball valve is mainly utilized for cutting off, distributing and altering the flowing direction of medium.
Features
1. 1PC round type threaded ball valve is convenient to open and close fully.
2. It has distinct features like small volume, reliable sealing performance, simple structure, convenient maintenance and high corrosion resistance.
3. 1PC round type ball valve can be widely used in water, oil, natural gas, weak corrosive liquid, etc.
Advantages
1. KERUI attaches much importance on technology renovation, process improvement, structure optimization and quality improvement. Besides, we have excellent after-sale service system, winning a gamut of satisfied customers.
2. 1PC round type threaded ball valves are guaranteed within 18 months.
3. All sealing materials adopt standard PTFE and PPL, carbon fiber, etc. And they are formed and cooled under high-temperature pressing, then processed by digital controlled lathe. In this way, the sealing performance and wear resistance is guaranteed, leading a longer service life.
Main Components and Materials of 1PC Round Type Threaded Ball Valve
Suitable Media
Type
Valve Body
Ball/Valve Body
Handle
Seal Ring
Gasket/Packing
Water, Steam, Oil
Q11F-16C、
Q11F-25C、
Q11F-40C、
Q11F-64C
A105、45
1Cr18/
Cr18Ni9Ti
Stainless Steel
SS304
PTFE/
Reinforced PTFE/ PPL
PTFE/PPL
Nitric Acid
Q11F-16P、
Q11F-25P、
Q11F-40P、
Q11F-64P
SS304/
1Cr18Ni9Ti
SS304/
1Cr18Ni9Ti
Nitric Acid
Q11F-16R、
Q11F-25R、
Q11F-40R、
Q11F-64R
SS316/
1Cr18Ni12Mo2Ti
SS316/
1Cr18Ni12Mo2Ti
Structure and Technical Parameters of 1PC Round Type Threaded Ball Valve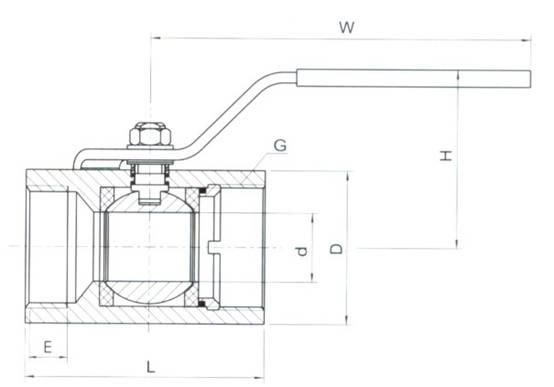 Nominal Diameter
Pipe Thread
Dimension(mm)
Weight (g)
d
L
W
H
E
D
D
6
1/4"
8
60
110
56
11.5
30
320
10
3/8"
18
60
110
58
11.5
31
320
15
1/2"
10.5
60
110
58
14
32
350
20
3/4"
13
67.3
110
62
15
38
430
25
1"
17
73
110
68
15
45
570
32
11/4"
22
90
150
75
18
53.4
1000
40
11/2"
25
97.5
150
83
19
63
1550
50
2"
32
112
150
90
19
73
2170
65
21/2"
40
132
180
95
21
92
3625
80
3"
50
156
220
100
27
109
5800
100
4"
65
196
220
115
29
138
7200