Introduction
API welded swing check valve (swing reflux valve) is an automatic valve that is installed on one-way flow pipelines. It can be widely applied in tap water, sewage, construction, petroleum, chemical, food, medicine, textile, electric power, shipbuilding, metallurgy, and other pipeline systems. This API swing check valve is mainly made up of valve body, disc, bonnet and gasket. Our valves have passed API6D and CE certifications.
Functions
1. API welded swing check valves are used to prevent reverse flow and leakage of medium, such as fluid, gas, etc.
2. API swing reflux valves can also be applied to stop reversal of pump and driving motor.
Advantages of API Swing Check Valve
1. High intensity and flexibility of rocker are beneficial to close disc.
2. Small friction between sealing surfaces ensures low wear rate of API welded swing check valve.
3. The disc sealing surface can be customized. Customer can choose sealing material according to media in order to increase sealing property and wear resistance according to requirement.
4. Two times shot blasting processing of valve surface make the valve look fine and smooth.
5. High reliability and long service time are also reflux valves' main features.
6. API swing check valve can be installed easily both on vertical and horizontal pipelines.
7. All our weld end swing reflux valves have 18 months warranty.
Structure Map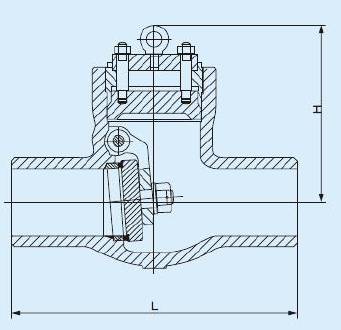 Working Principle of API Swing Check Valve
API welded swing check valve (swing reflux valve) opens and closes automatically depending on force from media flowing. It allows medium to flow through it in only one direction, and prevents reverse direction flow. Disc will open under the pressure of forward flow fluid. When fluid flows in reverse direction, the disc will be closed by fluid pressure and dead weight so as to cut off the flow.
Payment, Package & Transportation
1. API swing check valves can be paid by T/T, D/P, D/A, L/C, and so on.
2. Standard exporting wooden cases are employed for packaging.
3. Items are transported by air, sea or railway.
Wenzhou Kerui Valve Industry Co., Ltd. is a professional manufacturer and supplier of valves and strainers, such as ball valves, gate valves, globe valves, check valves and strainers in China. With high technology, great production capacity and strong innovation ability, we provide high quality and guaranteed valves. Our API swing check valves (swing reflux valves) occupy a large global market. For more information, please enter our website or contact us directly.