Description
Our API flanged stainless steel globe valve is generally applied in pipelines of all kinds of corrosive media. The flanged globe valves consist of valve body, disc, shaft pin and valve stem. The sealing face appears to be flat or conic. The disc moves along the valve seat central line. Currently, it enjoys wide application in pipelines of tag water, sewage, construction, petroleum, chemical, foodstuff, textile, medicine, electricity, ship, metallurgy, and energy system.
Advantages
1. API flanged stainless steel globe valve has good sealing performance and long service life.
2. Through two shot blasting treatment, the surface is gloss and smooth.
3. The friction between sealing faces is small.
4. Such globe valve adopts precision casting body and CNC processed disc.
5. We offer broad pressure classes including Class 150, Class 300,Class 600, Class 900 and Class 1500.
Features
(1) API flanged stainless steel globe valve has features of simpler structure and easier maintenance when compared with gate valve.
(2) With no relative sliding between disc and valve sealing face, abrasion and scratch are not serious.
(3) The disc stroke is short when flanged globe valves start or stop. Thereby, its height is a bit lower than that of gate valve, while the structure length is longer.
(4) Medium passway is not smooth inside API flanged stainless steel globe valve, so the hydraulic resistance is large, resulting in large power consumption.
(5) When the nominal pressure of medium flow direction is less than 16MPa, medium flows up from lower disc. When the pressure is more than 20MPa, medium flows down from upper disc, strengthening sealing performance. When in operation, medium flow direction is one way and can not be changed.
(6) The valve stem axis of API flanged stainless steel globe valve is vertical to valve seat sealing face.
Parameters
Production Enforce Standard
Design and Manufacture
Face to Face
End to End
Flange Dimension
Bult Welding Dimension
Pressure Temperature Lating
Inspection and Test
ANSI B16.34 BS1873
ANSI B16.10
ANSI B16.5
ANSI B16.25
ANSI B16.34
API 598
Material for Main Parts
Name
API Flanged Stainless Steel Globe Valve
Body Cover Disc
Stem
Sealing Face
Sealing Shim
Packing
Working Temperature
Suitable Medium
WCB
2Cr13
13CrSTL
With Body Material PTFE Nylon
13Cr Enhanced Flexible
1Cr13 Flexible Graphite SFB-208 Soft Steel F304 F316
Flexible Graphite Enhanced
Flexible Graphite
SFB/260
SFP/260
PTFE
≤ 425
Water Steam Petroleum Products
WC1
38CrMoAI 25Cr2Mov
≤ 450
WC6
≤ 540
WC9
≤ 570
C5 C12
≤ 540
CF8
F304
≤ 600
Nitric Acid Acetic Acid
CF3
F316
CF8M
F304L
CF3M
F316L
Classification
1. According to different passway directions, API flanged stainless steel globe valve can be subdivided into straight-through, straight-flow, angle and plunger type.
2. Depending on the thread location on the valve stem it can fall into upper and lower threaded stem type.
3. Basing on the use, anti corrosion flanged globe valves include steam jacket, forged steel, oxygen use, bellows, and cryogenic type.
Structure Diagram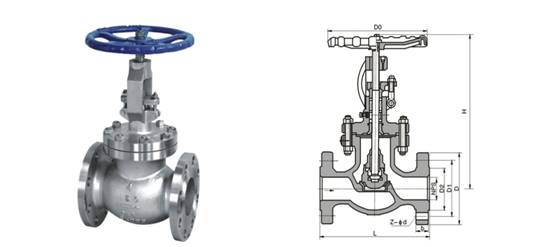 Kerui Company, founded in 2010, has been engaged in manufacturing all kinds of valves. Our main products include API flanged stainless steel globe valve, gate valve, check valve, strainer and forged steel valve. All these products have been exported to Russia, Britain, France, Spain, Finland, Sweden, Canada, Australia, Japan, South Korea, Mexico, Brazil, Argentina, Chile, Bulgaria, Slovakia, Pakistan, the Czech Republic, Indonesia, etc.