Introduction
API flange cast steel bellow sealed globe valve is designed to adjust the flow of all kinds of fluids, such as air, water, steam, various corrosive media, slurry, petroleum, liquid metal and radiating medium. This cast steel valve is comprised of valve body, disc, shaft pin, stem and bellows combination. The valve disc moves along seat central line, which makes valve seat changes is in direct proportion to disc stroke.
Application
1. API flange cast steel bellow sealed globe valve is suitable for such industries as chemical, foodstuff, pharmaceutical, metallurgy, light textile, etc.
2. It can also be used in construction, irrigation and water conservancy, thermal power generation, fire control, environment protection, shipping, and so on.
Advantages
1. API flange cast steel bellow sealed globe valve is famous for good sealing performance and long service life.
2. Polished twice, the surface appears gloss and bright.
3. There is less friction between sealing faces.
4. The valve body has been precisely molten. And the valve disc is processed by CNC technology.
Features
(1) Compared with gate valve, API flange cast steel bellow sealed globe valve has simpler structure and easier maintenance.
(2) The disc and valve sealing face make no relative sliding, thus abrasion and scratch are not so serious.
(3) The disc stroke turns to be short when cast steel valve opens or closes. Thus, the valve is not as high as gate valve, yet it is a bit longer.
(4) Medium passway appears to be flexural at the body inside of cast steel bellow sealed globe valve. That causes large hydraulic resistance which consumes lots of power.
(5) When the nominal pressure of medium flow direction is less than 16MPa, medium flows up from lower disc. When the pressure is more than 20MPa, medium flows down from upper disc, strengthening sealing performance. When in operation, the medium flow direction is one way, which can not be changed, either.
(6) The valve stem axis of API flange cast steel bellow sealed globe valve is vertical to valve seat sealing face.
Parameters
Material for Main Parts
Body Cover Disc
Stem
Sealing Face
Sealing Shim
Packing
Working Temperature
Suitable Medium
WCB
2cr13
13cr
STL
With Body
Material
PTFE
Nylon
Enhanced
Flexible
1cr13/Flexible
Graphite
SFB-208 Soft Steel
F304
F316
F304l
F316l
Flexible Graphite
Enhanced
Flexible
Graphite
SFB/260
SFP/260
PTFE
≤ 425
Water
Steam
Petroleum
Products
Wc1
38Cr Moa l
25Cr 2Mov
≤ 450
Wc6
≤ 540
Wc9
≤ 570
C5 C12
≤ 540
Cf8
F304
≤ 600
Nitric Acid
Acetic Acid
CF3
F316
CF8M
F304L
CF3M
F316L
Structure Diagram of Cast steel valve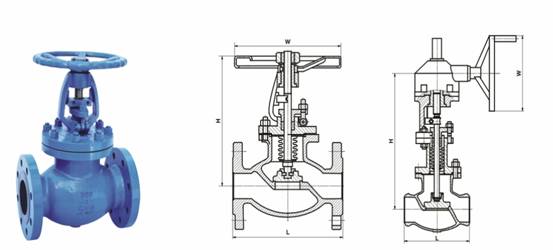 Founded in March 25, 2010, Wenzhou Kerui Valve Industry Co., LTD specializes in scientific research, design, manufacturing, sales and service of cast steel valves, including API flange cast steel bellow sealed globe valve. KERUI products have received ISO9001 quality system certification, CE certification and API 6D standard. These products also have reached the standard of US API, Germany DIN, Russia GOST, Japan JIS and China National Standard. We are looking forward to your inquiry.