Description
API flanged ball valve with ISO 5211 mounting pad is used for cutting off, distributing and changing the flowing direction of medium. This API ball valve characterizes small volume, reliable sealing performance, simple structure, convenient maintenance and high corrosion resistance. It is widely used in water, oil, natural gas, weak corrosive liquid, etc.
Advantages
1. Our flanged ball valves are guaranteed within the first 18 months.
2. KERUI pays much importance on technology renovation, process improvement, structure optimization and quality improvement on API ball valves.
3. We have excellent after-sale service system, providing timely and optimal service, thus winning widespread recognition and praise of our customers.
Performance
1. PTEE has been adopted for our flanged ball valves, leading excellent performance and superior sealing property.
2. The sealing performance and wear resistance of API ball valves are guaranteed, ensuring a longer service life.
Components of API Flanged Ball Valve with ISO 5211 Mounting Pad
Name
Material
Valve Body
CF8M
CF8
WCB
Ti
Bonnet
CF8M
CF8
WCB
Ti
Ball
316
304
Ti
Valve Seat
PTFE, PPL
Nut
A193-B8
A193-B7
A193-B8
Valve Stem
316
304
Ti
Thrust Washer
PTFE, Flexible Graphite
Packing
PTFE, Flexible Graphite
Gasket
Reinforced PTFE and Flexible Graphite
Packing Press Ring
304
Belleville Spring
301
Nut
304
Locking Device
304
Handle (1/2''-3'')
304
Handle Cover (1/2''-3'')
Plastics
Locating Pin(1/2''-3'')
304
Seal Gasket
PTFE, Flexible Graphite + Stainless Steel Wire
Steel Pipe(4''-6'')
Galvanized
Spanner
CF8
Positioning Screw
304
Technical Parameters of API Flanged Ball Valve with ISO 5211 Mounting Pad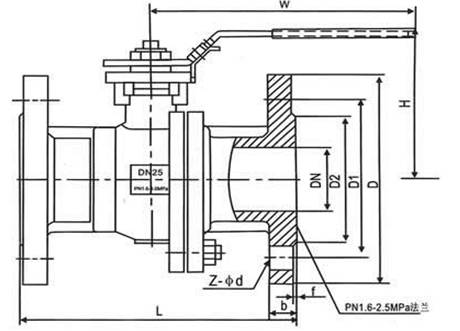 Nominal Pressure
Nominal Diameter
d
L
D
D1
D2
b
f
z-Φd
H
W
Class 150
1/2″
13
108
89
60.5
35
11.5
1.6
4-16
79
135
3/4″
19
117
98
70
43
11.5
1.6
4-16
84
135
1″
25
127
108
79.5
51
12
1.6
4-16
95
170
1-1/4″
32
140
117
89
64
13
1.6
4-16
103
170
1-1/2″
38
165
127
98.5
73
15
1.6
4-16
111
200
2″
51
178
152
120.5
92
16
1.6
4-19
120
200
2-1/2″
64
190
178
139.5
105
18
1.6
4-19
153
300
3″
76
203
190
152.5
127
19
1.6
4-19
163
300
4″
102
229
229
190.5
157
24
1.6
4-19
182
400
5″
127
356
254
216
186
24
1.6
8-22
260
500
6″
152
394
279
241.5
216
26
1.6
8-22
280
800
8″
203
457
343
298.5
270
29
1.6
8-22
-
1100
Class 300
1/2″
13
140
95
66.5
35
15
1.6
4-16
79
135
3/4″
19
152
117
82.5
43
16
1.6
4-19
84
135
1″
25
165
124
89
51
18
1.6
4-19
95
170
1-1/4″
32
178
133
98.5
64
19
1.6
4-19
103
170
1-1/2″
38
190
156
114.5
73
21
1.6
4-22
111
200
2″
51
216
165
127
92
23
1.6
4-22
120
200
2-1/2″
64
241
190
149
105
26
1.6
8-19
153
300
3″
76
283
210
168.5
127
29
1.6
8-22
163
300
4″
102
305
254
200
157
32
1.6
8-22
182
400
5″
127
381
279
235
186
35
1.6
8-22
260
500
6″
152
403
318
270
216
37
1.6
12-22
280
800
8″
203
502
381
330
270
42
1.6
12-25
-
1100