Description
API 2PC flanged floating ball valves are used for cutting off, distributing and changing the flowing direction of medium. They are easy to open and close, featuring in small volume, reliable sealing performance, simple structure, convenient maintenance and high corrosion resistance, widely used in water, oil, natural gas, weak corrosive liquid, etc.
Advantages
1. KERUI products have received ISO9001 quality system certification, CE certification and API 6D standard.
2. We have excellent after-sale service system, winning widespread recognition and praise of our customers. Our flanged floating ball valves are guaranteed within 18 months.
3. Our company pays much attention to technology renovation, process improvement, structure optimization and quality improvement. Besides, KERUI products are strictly inspected before into storage, thus ensuring products' quality.
Performance
1. Adopting PTFE that is of excellent self-lubrication, API 2PC flanged floating ball valves are low in friction loss coefficient, good in performance and excellent in sealing property.
2. The sealing materials all adopt standard PTFE and PPL, carbon fiber, etc. And they are formed and cooled under high-temperature pressing, then processed by digital controlled lathe. In thus way, the sealing performance and wear resistance is guaranteed, leading a longer service life.
3. The ball is of floating type, therefore, under the function of pressure, it can generate a certain amount of displacement and press tightly on the sealing surface of exit end. In thus way, flanged floating ball valves can guarantee excellent sealing performance of exit end.
Components
Valve Body
WCB
CF8
CF8M
CF3
CF3M
Ball
2Cr13
304
316
304L
316L
Valve Stem
2Cr13
304
316
304L
316L
Valve Seat
PTEE Stainless Steel/PTEE PPL
Gasket
PTEE Stainless Steel/Flexible Graphite Grooved Metal Gasket
Seat of Valve Rod
PTEE Stainless Steel/Flexible Graphite
Packing
PTEE Reinforced Flexible Graphite
Gland Packing
WCB
304
316
304L
316L
Temperature
≤150
Medium
Water, Oil, Steam, Acetic Acid, Nitrose
Technical Parameters of API 2PC Flanged Floating Ball Valves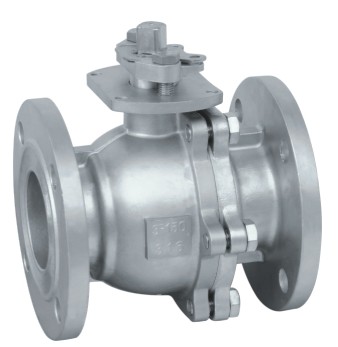 Q41F-150LB
DN
150Lb 150Lbp 150LbR
Weight(kg)
mm
in
L
D
D1
D2
b
n-d
H
D0
15
1/2
108
89
60.5
35
11.5
4-15
59
130
2.2
20
3/4
117
98
70
43
11.5
4-15
63
130
3.0
25
1
127
108
79.5
51
12
4-15
75
160
4.5
32
11/4
140
117
89
64
13
4-15
75
160
5.5
40
11/2
165
127
98.5
73
15
4-15
95
230
7.0
50
2
178
152
120.5
92
16
4-19
107
230
9.5
65
11/2
190
178
139.7
105
18
4-19
142
400
19
80
3
203
190
152.5
127
19
4--19
152
400
19
100
4
229
229
190.5
157
24
8-19
178
700
33
125
5
256
254
215.9
186
24
8-22
252
1100
58
150
6
394
279
241.5
261
26
8-22
272
1100
93
200
8
457
343
298.5
270
29
8-22
342
1500
160
250
10
533
406
362
324
31
12-25
345
1500
200