Description
DBB (Double Block and Bleed) valves are a space-saving dual isolation solution that reduces the need for costly multi-valve systems. By combining all block and bleed components into a single unit, DBB valves are compact in structure, light in weight and good in sealing performance. DBB valves in KERUI have three different types, that is, flange type, welded type and threaded type. We can customize these valves according to your specifications.
Application
DBB threaded ball valve can be widely used in such pipelines as tap water, sewage, construction, petroleum, chemical, food, medicine, textile, electric power, shipbuilding, metallurgy, energy systems, etc.
Advantages
1. DBB threaded ball valve features excellent sealing performance, low friction between sealing surfaces and long service life.
2. The body of this DBB valve is cast in precision. Thus it is good in performance. The surface is finished twice, thus it is smooth and bright. The bonnet is processed by numerical control machine.
3. KERUI has been awarded by ISO9001:2008 international system certification, API 6D certification, CE certification, etc.
Performance
1. Sealing materials can be chosen based on media involved to strengthen sealing performance and wear resistance, reducing cost.
2. Our DBB threaded ball valves are guaranteed within 18 months and enjoy lifelong technical service.
Components
DBB threaded ball valve is mainly composed of valve body, bonnet, ball, valve stem, valve seat, sealing materials, etc.
No.
Part Name
ASTM Material
Carbon Steel
Alloy Steel
Stainless Steel
1
Bonnet
ASME A105
A352-LCB
A217+WCB
A351-CF8
A351-CF8M
2
Spring
INCLONEL750
A313-304
A313-316
A313-316
A313-316
3
Seat O Ring
Viton
Viton
Viton
Viton
Viton
4
Seat
ASME A105+ENP
A350-LF2 +ENP
A182+F316
A182-F304
A182-F316
5
Seat Ring
PTFE
PTFE
R.PTFE
Glass Filled PTFE
6
Stud
A193-B7
A320-L7
A193-B7
A193-B8
A193-B8
7
Connection Plate
ASTM A105
A352-LCB
A217-WC6
A351-CF8
A351-CF8
8
Packing Case
F4
9
Grease Injection Valve
SS
10
Stem O Ring
Viton
Viton
Viton
Viton
Viton
11
Stem
A182 F6a
A276-304
A276-316
A276-304
A276-316
12
Ball
ASTM A105+ENP
A182-F304
A182-F316
A182-F304
A182-F316
13
Body
ASTM A105
A352-LCB
A217-WCB
A351-CFB
A351-CF8M
14
Trunnion
A276-304
A276-316
A276-304
A276-316
15
Lower Cover
ASTMA105
A352-LCB
A217-WCB
A351-CFB
A351-CF8M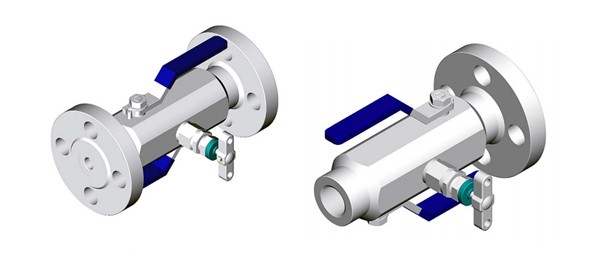 Structure of DBB Threaded Ball Valve

Standards of DBB Threaded Ball Valve
Pressure Rating: ASTM B16.5
Flange End: ASME B16.5
Temperature: -53~1000℉(10~537℃)
Full Port: 3/8~ 2in- (9.5MM~50.8MM)
Parts and Functions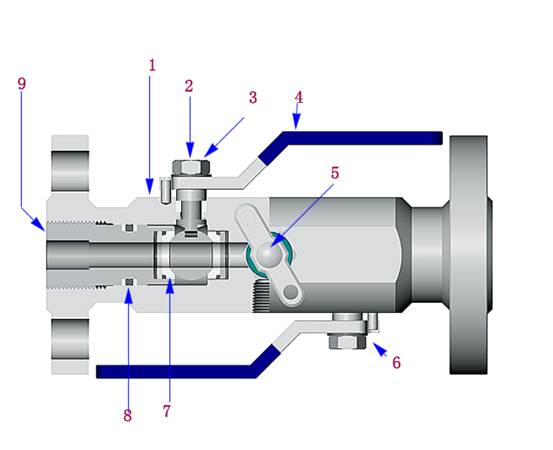 1. Whole valve structure: no leakage
2. Independent handle (nut): fix stem without handle
3. Ball valve
4. Stainless handle and cover: strengthen corrosion-resistance performance
5. Bleeder valve
6. Ball valve
7. Load and elastic seat: guarantee sealing performance in high/low temperature or low voltage condition
8. O-ring: guarantee sealing performance in various condition
9. Flange sealing surface has smooth and sawtooth types. Dimensions of DBB Threaded Ball Valve