Description
KERUI developed an advanced design of DIN top entry ball valves, in a complete wide range of diameters and pressure classes. This top entry trunnion mounted ball valve is the perfect choice when on line maintenance is required. The valve allows free access to the body cavity without dismantling the valve from the line. Users can replace the parts they want to change. And these ball valves are of fire safe design.
Features
1. DIN top entry ball valve can be widely used in such pipelines as tap water, sewage, construction, petroleum, chemical, food, medicine, textile, electric power, shipbuilding, metallurgy, energy systems, etc.
2. This top entry trunnion mounted ball valve features convenient repair and installation, good sealing performance, long service life, etc. The surface is finished second time, thus it is smooth and bright. The bonnet is processed by numerical control machine.
3. KERUI has been awarded by ISO9001:2008 international system certification, CE certification, etc.
4. Our ball valves are guaranteed within 18 months and enjoy lifelong technical service.
Components
DIN top entry ball valve is mainly composed of valve body, bonnet, ball, valve stem, valve seat, sealing materials, etc.
Technical Specifications of DIN Top Entry Ball Valve
1. Design & Manufacture Standard: DIN 3357
2. Pressure & Temperature Standard: DIN 2401
3. Face to Face Dimension Standard: DIN 3202
4. Flange Standard: DIN 2543-2545/DIN 2501
5. Test & Inspect Standard: DIN 3230
6. Anti-fire Test Standard: API 607
7. Visual Inspection: MSS SP 54
8. Structure Length: ANSI B16.10
9. End Connection: ANSI B16.5
10. Main Materials: Carbon Steel, Stainless Steel, Alloy Steel
Structure of DIN Top Entry Ball Valve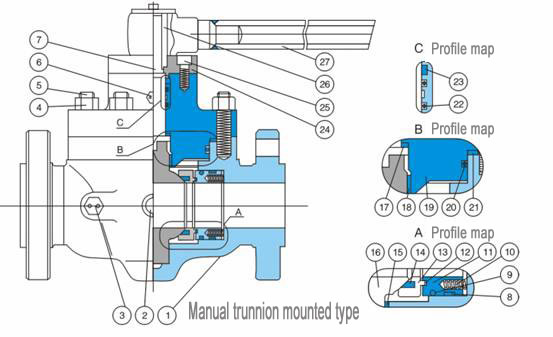 Technical Parameters of DIN Top Entry Ball Valve