1PC hexagonal screwed end ball valve is used for cutting off, distributing and changing the flowing direction of medium. This 1PC hexagonal ball valve is not easily corroded by medium, which can be widely used in water, oil, natural gas, weak corrosive liquid, etc.
Advantages
1. 1PC hexagonal screwed end ball valve characterizes in small volume, reliable sealing performance, simple structure, convenient maintenance and high corrosion resistance.
2. KERUI products have received ISO9001 quality system certification, CE certification and API 6D standard.
3. Our company pays much attention to technology renovation, process improvement, structure optimization and quality improvement.
4. We have excellent after-sale service system. Our 1PC hexagonal ball valves are guaranteed within 18 months.
Features of 1PC Hexagonal Screwed End Ball Valve
1) Reduce Bore
2) Size: 1/4"-4" (DN6-DN100)
3) Material: CF8 (SS304), CF8M (SS316), WCB, DIN1.4408/1.4308/1.0619
4) Threaded: BSP, NPT, PT, DIN259/2999
5) Working Pressure: 1000/2000PSI(6.4/12.8MPa)
6) Suitable Temp.: -20℃~200℃~350℃
7) Suitable Medium: Water, Natural Gas, Oil and Some Corrosive Liquid
8) Investment Casting Body
9) Pure Teflon Seals and Seats
10) Lever Operated
Main Parts and Materials
| | | | |
| --- | --- | --- | --- |
| NO. | Part Name | Material | QTY |
| 1 | Joint Ring | PTFE | 1 |
| 2 | Body | CF8/CF8M | 1 |
| 3 | Joint Gasket | PTEE | 1 |
| 4 | Lock Nut | CF8/CF8M | 1 |
| 5 | Joint Ring | PTFE | 1 |
| 6 | Stem Washer | 304/316 | 1 |
| 7 | Ball | 304/316 | 1 |
| 8 | Stem | 304/316 | 1 |
| 9 | Thrust Washer | PTFE | 1 |
| 10 | Stem Packing | PTFE | 1 |
| 11 | Gland | 304 | 1 |
| 12 | Gland Nut | 304 | 1 |
| 13 | Stem Nut | 304 | 1 |
| 14 | Handle | A3 | 1 |
| 15 | Handle Cover | Plastic | 1 |
Structure of 1PC Hexagonal Screwed End Ball Valve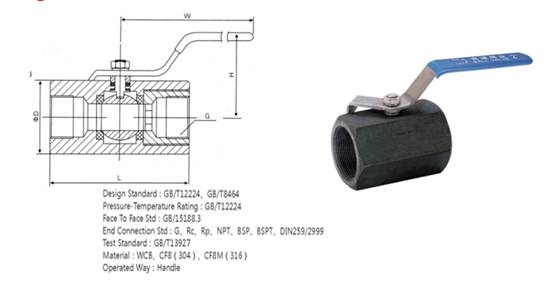 Parameters of 1PC Hexagonal Screwed End Ball Valve
DIMENSIONS
Item\Size
1/4"
3/8"
1/2"
3/4"
1"
11/4"
11/2"
2"
D
5.0
7.0
10.5
12.5
15
20
25
32
L
41
57
60
67
74
74
83
114
H
23
34
35
40
67
75
83
90
E
65
91
95
99
100
105
135
160
W
19
27
30
35.5
42
53
48
74.5