Description
The ball of API 2PC trunnion mounted ball valve is fixed, thus it does not move no matter how strong is the pressure. This flanged ball valve is often combined with floating valve seat, which will move to press the seal ring on the ball under the pressure of media, guaranteeing the sealing performance.
Application
API 2PC flanged ball valves can be widely used in such pipelines as tap water, sewage, construction, petroleum, chemical, food, medicine, textile, electric power, shipbuilding, metallurgy, energy systems, etc.
Advantages
1. API 2PC flanged ball valve is easy to open. It has excellent sealing performance, low friction between sealing surfaces and long service life.
2. The body of this trunnion mounted ball valve is cast in precision. Thus it is good in performance.
3. The surface is finished second time, thus it is smooth and bright. The bonnet is processed by numerical control machine.
4. KERUI has been awarded by ISO9001:2008 international system certification, API 6D certification, CE certification, etc.
5. Sealing materials can be chosen based on media to increase sealing performance and wear resistance, reducing cost.
6. Our trunnion mounted ball valves are guaranteed within 18 months and enjoy lifelong technical service.
Components
API 2PC flanged ball valve is composed of valve body, bonnet, ball, valve stem, valve seat, sealing materials, etc.
Number
Parts
Carbon Steel Series
Stainless Steel Series
Low Temperature Series
Anti-sulfur Series
Carbon Steel Series
Stainless Steel Series
1
Valve Body
A216
WCB
A351-CF8
CF8M.CF3.CF3M
A352 LCB. LCC
GB/T 12229
A216 WCB
A351 CF8M
2
Valve Seat
PTFE, RPTFE, Sintering Carbon Fiber, Metal + Rubber
3
Ball
A105+ HCr/ENP
A351-CF8
CF8M、CF3、CF3M
A352
LCB.LCC+ENP
A105+HCr/ENP
A351 CF8M+ENP
4
Spring
INCONEL 750
5
Bolt
A193 B7
A193 B8.B8M
A320 L7
A193 B7M
A193 B8M
6
Gasket
Flexible Graphite + Stainless Steel
7
Nut
A194 2H
A194 8M
A194 4
A194 2HM
A194 8M
8
Bonnet
A216 WCB
A351 Ct8 CF8 CF3 CF3M
A352 LCB. LCC
GB/T 12229
A216 WCB
A351 CF8M
9
Valve Stem
A182 F6a
A182 F304、 316
A182 F6a
A182 F304
A182 F316
10
Axle Bushing
PTFE, Sintering Carbon Fiber
11
Packing Seat
A182 F6a
A182 F6a
A182 F6a
12
Packing
Flexible Graphite + PTFE
13
Packing Gland
A216 WCB
A351 B8 B8M
A320 L7
A193 B7M
A193 B8M
14
Screw
A193 B7
A193 B8.B8M
A320 L7
A193 B7M
A193 B8M
15
Locating Pin
GB/T 700 Q235A+Zn(Cr)
16
Closing Ring
GB/T 1222 65Mn
17
Handle
A216 WCB
Technical Parameters of API 2PC Flanged Ball Valve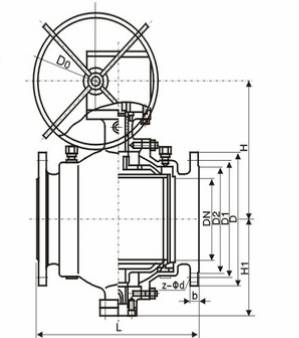 Production Standard
Product Specification
Design Specification
Face to Face
Flange End
Test and Check
Marking
Supply
GB/T12237 JB/T7745
GB/T12221 JB/T7745
JB/T9092
JB/T9092
GB/T12220
JB/T7928
API 608 API 6D
ANSI B16. 10 API 6D
ANSI B16.5
API 598 API 6D
MSS SP-25 API 6D
API 608 API6D