Description
API cast steel welded globe valves are a type of valves used for regulating flow in pipelines, consisting of a movable disk-type element and a stationary ring seat in a generally spherical body. These cast steel globe valves are widely used in those applications requiring throttling and frequent operation.
Application
API cast steel welded globe valves are utilized as regulation and cut-off device in such pipelines as tap water, sewage, construction, petroleum, chemical products, foodstuff, medicine, textile, electricity, ship, metallurgy, energy system, etc.
Advantages
1. Good sealing performance, small friction between sealing faces and long service life.
2. Low opening torque.
3. Simple structure, and convenient installation and maintenance.
Features
1. When starting or stopping API cast steel welded globe valves, the disc stroke is short. Therefore, its height is a bit lower than that of gate valves, but the structure length is longer.
2. Medium passway of this kind of cast steel globe valves is quite zigzag, so the hydraulic resistance is large, leading to big power consumption.
3. When in use, the medium flow direction in API globe valves is unidirectional and its flow direction can not be changed.
Technical Parameters of API Cast Steel Welded Globe Valve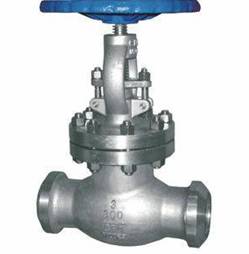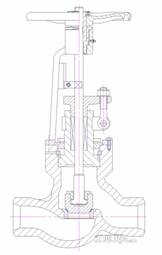 No.
Part Name
Carbon Steel
Stainless Steel
Alloy Steel
Low Temperature Steel
1
Body
A216 GR WCB
A351 GR CF8
A217 GR WC6
A352 GR LCB
2
Seat
A105
/
A182 GR F304
A182 GR F304
3
Disk
A216 GR WCB
A351 GR CF8
A217 GR WC6
A352 GR LCB
4
Stem
A276 TYPE410
A276 TYPE304
A182 GR F22
A276 TYPE 304
5
Bolt
A193 GR B7
A193 GR 8
A193 GR B7
A193 GR 8
6
Nut
A194 GR 2H
A194 GR B8
A194 GR 4
A194 GR B8
7
Back Seat
A182GR F6a
A182 GR F304
A182 GR F304
A182 GR F304
8
Gasket
Graphite+SS304
9
Packing
Graphite
10
Pin
A194 GR 2H
A276 TYPE304
A276 TYPE 410
A276 TYPE 304
11
Packing Bushing
A182GR F6a
A182 GR F304
A182 GR F6a
A182 GR F304
12
Eyebolt
A193 GR B7
A193 GR 8
A193 GR B7
A193 GR 8
13
Eyebolt Nut
A194 GR 2H
A194 GR B8
A194 GR 4
A194 GR B8
14
Gland
A216 GR WCB
A351 GR CF8
A216 GR WCB
A352 GR LCB
15
Bonnet
A216 GR WCB
A351 GR CF8
A216 GR WCB
A352 GR LCB
16
Stem Nut
B148 UNS C95600
B148 UNS C95600
B148 UNS C95600
B148 UNS C95600
17
Handwheel
A197
A197
A197
A197
18
Handwheel Nut
A108 GR 1020
A182 GR F304
A108 GR 1020
A182 GR F304