Application
API 6D trunnion mounted ball valve can be widely applied in such pipelines as tap water, petroleum, chemical, food, medicine, textile, electric power, shipbuilding, metallurgy, energy systems, etc.
Components
API 6D trunnion mounted ball valve is mainly composed of valve body, bonnet, ball, valve stem, valve seat, sealing materials, etc.
Advantages
1. KERUI products have been awarded by ISO9001:2008 international system certification, API 6D certification, CE certification, etc.
2. API 6D trunnion mounted ball valve has excellent sealing performance, low friction between sealing surfaces and long service life. The body of this API 6D ball valve is cast in precision, thus it is good in performance. The surface is finished second time, thus it is smooth and bright. The bonnet is processed by numerical control machine.
3. Sealing materials can be chosen based on media to strengthen sealing performance and wear resistance, reducing cost.
4. Our API 6D ball valves are guaranteed within 18 months and enjoy lifelong technical service.
Technical Parameters of API 6D Trunnion Mounted Ball Valve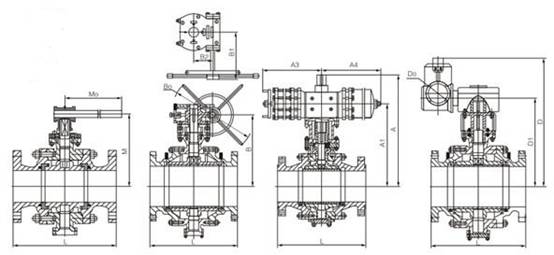 | | | | |
| --- | --- | --- | --- |
| Handle Operation | Worm Gear Operation | Pneumatic Operation | Electric Operation |
| A(G)TB1RF1 | A(G)3TB1RF1 | A(G)6TB1RF1 | A(G)9TB1RF1 |
| A(G)TB1BW1 | A(G)6TB1BW1 | A(G)6TB1BW1 | A(G)9TB1BW1 |
No.
Parts
Materials
No.
Parts
Materials
Carbon Steel
Stainless Steel
Low Temperature Steel
Carbon Steel
Stainless Steel
Low Temperature Steel
1
Valve Body
ASTM A105
A182 F304
A350 LF2
19
Grease Injection Valve
ASTM A105
A182 F304
A350 LF2
2
Gasket
Flexible Graphite + SS
20
Upper Bushing
PTFE + CS
PTFE+SS
PTFE+SS
3
Bleeder Valve
ASTM A105
A182 F304
A350 LF2
21
Valve Stem
A182 F6a
A182 F304
A182 F304
4
Bottom Cap
ASTM A105
A182 F304
A350 LF2
22
Flat Bushing
PTFE + CS
PTFE+SS
PTFE+SS
5
Bolt
A193 B7
A193 B8
A320 L7
23
Yoke
A216 WCB
6
Gasket
Flexible Graphite + SS
24
Adapter Sleeve
ANSI 1025
7
O-ring
Fluororubber
25
Bolt
A193 B7
8
Lower Bushing
PTFE + CS
PTFE + SS
PTFE + SS
26
O-ring
Fluororubber
9
Ball
ASTM
A105+ENP
A182 F304
A182 F304
27
O-ring
Fluororubber
10
Flange Gasket
Flexible Graphite + SS
28
Gasket
Flexible Graphite + SS
11
O-ring
Fluororubber
29
Upper Valve Seat
ASTM A105
A182 F304
A350 LF2
12
Firewall
Flexible Graphite
30
Locating Pin
A182 F6a
13
Seal Ring
PTFE, NYLON, PEEK, MOLON, PCTFE
31
Bolt
A193 B7
14
Valve Seat
ASTM
A105 + ENP
A182 F304
A182 F304
32
Worm Screw and Worm Gear
/
15
Spring
Inconel600
33
Grease Injection Valve
ASTM A105
A182 F304
A350 LF2
16
Bolt
A193 B7
A193 B8
A320 L7

PS: 1) Sealing materials should be chosen according to temperature and pressure.
2. Besides those materials listed above, we can use materials that customers require.
17
Nut
A194 2H
A194 8
A194 7
18
Bonnet
ASTM A105
A182 F304
A350 LF2