Description
DIN cast steel horizontal lift check valve is installed in various pipeline, such as tap water, petroleum, sewage, construction, chemical, food, medicine, textile, electric power, shipbuilding, metallurgy, and other pipelines. It is used to prevent reverse flow and leakage of medium as well as reversal of pump and driving motor. It can also be employed to balance the pressure between main pipe system and auxiliary pipe system. This valve is mainly made up of valve body, disc, bonnet and gasket.
Advantages of DIN Cast Steel Horizontal Lift Check Valves
1. Disc restrainer is designed to avoid that disc is too high to be closed.
2. High strength solid axis pin is installed to guarantee valve's long service life and excellent performance.
3. Small friction between sealing surfaces assures low wear rate of sealing surface.
4. Sealing surface can be customized according to customers' requirement.
Features
1. DIN cast steel horizontal lift check valve can be installed on both horizontal and vertical pipes.
2. CNC technology is adopted for producing disc.
3. Two times shot blasting on valve surface ensures its beautiful appearance.
4. Disc closes fast with little water hammer pressure generated.
5. Flow channel inside the valve is unobstructed, so fluid resistance is small.
6. It has characteristics of sensitive movement, good sealing property, high reliability and long serve life.
Working Principle
DIN cast steel horizontal lift check valve is installed in one-way flow pipeline. It allows medium to flow through the valve in only one direction, and prevents reverse direction flow. Valve disc opens and closes automatically depending on force from media flowing. Disc will open under the pressure of forward flow fluid. When fluid flows in reverse direction, the disc will be closed by fluid pressure and dead weight so as to cut off the flow.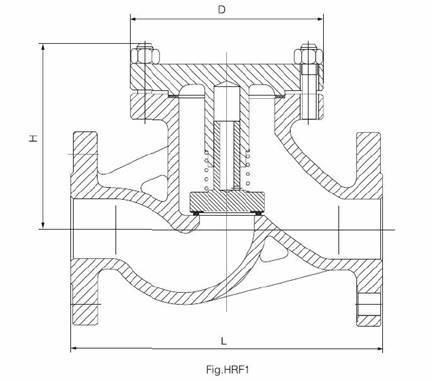 Attentions
When operating DIN cast steel horizontal lift check valve, do not make it bear weight in pipeline. Large check valve should have independent support to ensure that the valve will not be affected by pressure from pipe system.
Wenzhou Kerui Valve Industry Co., Ltd. is a professional manufacturer of valves and strainers, such as ball valves, gate valves, globe valves, check valves, forged steel valves and Y type strainers. With high technology, great production capacity and strong innovation ability, we are able to provide high quality valves. Our products have passed certification of API, DIN, CE, etc. Our DIN cast steel horizontal lift check valves occupy a large market at home and abroad. For more information, please enter our website or contact us directly.