Introduction
API cast steel single plate wafer check valve is installed on one-way flow pipelines. It is mainly made up of valve body, disc and spring. It is used to prevent backflow and leakage of medium, and reversal of pump and driving motor. This single plate check valve can also be installed in auxiliary pipeline system to balance system pressure.
Application
API cast steel single plate wafer check valve can be widely applied in tap water, sewage, construction, petroleum, chemical, food, medicine, textile, electric power, shipbuilding, metallurgy, and other pipeline systems.
Features
1. This single plate check valve has characteristics of compact structure, beautiful shape, high reliability and long service time.
2. API cast steel single plate wafer check valve can be installed easily both on vertical and horizontal pipelines.
3. Flow channel is unobstructed and fluid resistance is small.
4. Disc closes fast because the travel journey of disc is short.
5. Water hammer pressure and impact force when closing valve is small.
Advantages
1. Sealing
Small friction between sealing surfaces ensures low wear rate of sealing component.
2. Surface
Two times shot blasting processing of valve surface make API cast steel single plate wafer check valve look fine and smooth.
3. Valve Body
Precision casting technology is adopted for manufacturing valve body.
4. Disc
1) CNC processing technology is adopted to produce disc.
2) Disc restrainer is designed to prevent that the open position of disc is too high to be shut down.
3) Disc of API cast steel single plate wafer check valve is with high strength and stiffness.
4) The disc sealing surface can be customized. Customer can choose sealing material for disc sealing surface according to needs.
5. Axis Pin
High strength solid axis pin is installed precisely to assure this single plate check valve's reliable performance and long service life.
6. Rocker
Rocker is with enough strength. Adequate degree of freedom makes it very easy for disc to close.
Working Principle
API cast steel single plate wafer check valve allows medium to flow through in only one direction, and prevents reverse direction flow. Disc opens and closes automatically depending on force from media flowing. Disc will open under the pressure of forward flow fluid. When fluid flows in reverse direction, the disc will be closed by fluid pressure and dead weight so as to cut off the flow.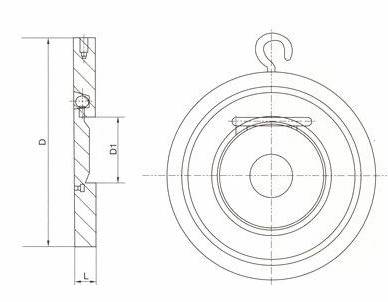 Wenzhou Kerui Valve Industry Co., LTD specializes in researching, designing, manufacturing and selling cast steel valves and stainless steel valves. Main products include ball valves, gate valves, globe valves, check valves and strainers. All of our single plate check valves have reached the standard of US API and Germany DIN. Our API cast steel single plate wafer check valves are exported to Brazil, Argentina, Mexico, Canada, Russia, Kazakhstan, Indonesia, South Korea, Japan, Australia, Bulgaria, Spain, France, England, Sweden, Dubai, Arab, Pakistan, South Africa, etc.