Description
DIN pressure seal globe valve is mainly utilized for regulating flow in such pipelines as tap water, sewage, construction, petroleum, metallurgy, energy system, etc. This DIN globe valve features good sealing performance, small friction between sealing faces and long service life. Pressure seal valves are widely used in such applications requiring throttling and frequent operation.
Advantages
1. DIN pressure seal globe valve needs low torque to open.
2. Valve body is precisely cast.
3. Valve disc of DIN valves is processed by CNC technology.
4. Featuring simple structure, pressure seal valves are convenient to install and maintain.
Features
1. When starting or stopping DIN pressure seal globe valve, the disc stroke is short. Therefore, its height is a bit lower than that of gate valves, but the structure length is longer.
2. Medium passway of DIN globe valve is quite zigzag, leading to high hydraulic resistance and big power consumption.
Structure and Parameters of DIN Pressure Seal Globe Valve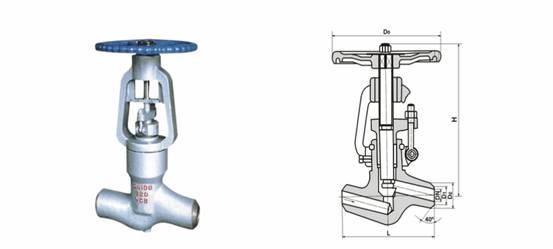 Main Parts and Materials of DIN Globe Valve
NO.
Part Name
Material
GS-C25
1.4308
1.4408
1.4306
1.4435
1
Body
GS-C25
G-X6CrNi18 9
G-X6CrNiMo18 10
G-X2CeNi18 9
G-X2CrNiMo17 12 2
2
Disc
1.4006 X10Cr13
1.4301 X5CrNi18 10
1.4401 X3CrNiMo17 13 2
1.4306 X2CrNi19 11
1.4435 X2CrNiMo17 12 2
3
Pin
1.4001 X7Cr13
1.4001 X7Cr13
1.4301 X5CrNi18 10
1.4301 X5CrNi18 10
4
Bellow assemble
1.4878 X12CrNiTi189
1.4401 X3CrNiMo17 13 2
1.4306 X2CrNi19 11
1.4435 X2CrNiMo17 12 2
5
Stem
1.4006 X10Cr13
1.4401 X3CrNiMo17 13 2
1.4401 X3CrNiMo17 13 2
1.4435 X2CrNiMo17 12 2