Description
3PC extended butt weld ball valve is API 6D certified. This API 6D ball valve is mainly used for cutting off, distributing and changing the flowing direction of medium in pipelines. It is easy to open and close.
Features
Characterizing in small volume, reliable sealing performance, simple structure, convenient maintenance and high corrosion resistance, extended body ball valve can be widely used in such pipelines as water, oil, natural gas, weak corrosive liquid, etc.
Performance
1. This API 6D ball valve is low in friction loss coefficient, good in performance and excellent in sealing property.
2. Sealing materials of 3PC extended body ball valve all adopt standard PTFE and PPL, carbon fiber, etc. They are formed and cooled under high-temperature pressing, then processed by digital controlled lathe. In thus way, the sealing performance and wear resistance is guaranteed, leading a longer service life.
3. The ball of this API 6D ball valve is of floating type. Under the function of pressure, it can generate a certain amount of displacement and press tightly on the sealing surface of exit end, ensuring excellent sealing performance.
Advantages
1. We have excellent after-sale service system, winning widespread recognition and praise of our customers. Our 3PC extended body ball valves are guaranteed within 18 months.
2. Our company pays much attention to technology renovation, process improvement, structure optimization and quality improvement. Besides, 3 piece ball valves are strictly inspected before into storage, thus ensuring products' quality.
Main Components of 3PC Extended Body Ball Valve
Main Parts and Materials
No.
Part Name
Material
1
Bonnet
CF8M
2
Body
CF8M
3
Ball
SS316
4
Seat
PTFE
5
Ball
B8
6
Gasket
SS301
7
Stem Nut
B8
8
Stem Seat
PTFE
9
Stem
SS316
10
Packing
PTFE
11
Packing Gland
SS304
12
Handle
SS304
13
Spring Washer
SS301
14
Stem Nut
SS304
Technical Parameters of 3PC Extended Body Ball Valve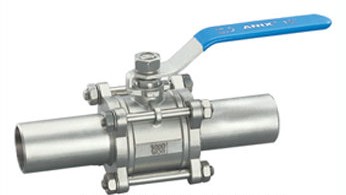 | | | | | |
| --- | --- | --- | --- | --- |
| size | DN | L | H | W |
| 1/4″ | 6 | 112 | 52 | 105 |
| 3/8″ | 10 | 112 | 25 | 105 |
| 1/2″ | 15 | 128 | 65 | 130 |
| 3/4″ | 20 | 135 | 70 | 130 |
| 1″ | 25 | 142 | 78 | 150 |
| 11/4″ | 32 | 165 | 82 | 180 |
| 11/2″ | 40 | 175 | 90 | 200 |
| 2″ | 50 | 205 | 98 | 200 |
| 21/2″ | 65 | 250 | 140 | 240 |
| 3″ | 80 | 275 | 155 | 265 |
| 4″ | 100 | 350 | 122 | 300 |